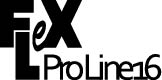 HIGH RESOLUTED COMPACT LINE SOURCE

16 x 2" equipping.
100° x 15 ° coverage.
Compact housing design.
Line Array features.
Extremly high resolution.
Powder coated housing.
The advantages of the Line 16 is obvious. Due to its array positioning of the 16 x 2"
speakers, a line radiator has been generated with a coupling accordingly.
That's why this top loses only 3 dB each doubling of distance, as opposed to 6dB with standard tops usually. Accordingly even the top covers wide distances.
The noble design of the Line 16 rounds down the package. A perfect 360° circle with a 100° opening covered with acoustic foam. Sure, the powder coating can be adjusted in color to the room.
Despite the filigree look the Line 16 should not be discounted.
It produces 123dB peak anyway!
But also the coverage offers a wide range of applications. Due to the hard edged 15° at the top and bottom side it is able to erase reflections from roof or floor. If you turn it around 90° you will achieve possibilities to target a special corridor with sound.
In combination with the Sub12 you will get a perfect listening pleasure due to its FIR filters and the delay correction for the crossover region.
Type:
Linesource with Line Array features
Equipping:
16x2" wideband speaker
Max. Power AES:
400W
Frequency Res -6dB:
140Hz – 20kHz
SPL 1W/1m:
95dB
SPL max:
123dB
Coverage:
100° x 15°
Impedance:
8 Ohm
Connection:
1 x SpeaKon NL4MP 4pole wired in the socket
Dimension (w x h x d):
86 x 1070x 86 mm
Cabinet:
powder coated aluminium profile
Pole mouth at socket, rail at backside
Options:
RAL colours upon request
Active module "Backpack"