ULTRAFLEXIBLE MATRIX-HORN-DESIGN SUBWOOFER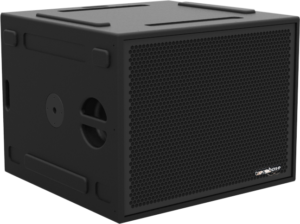 18" speaker with high efficiency.
Available in passive or selfpowered.
Extreme coupling with several MTrX 18 Subs.
Longlasting and durable coating for tour and rental usage.
Perfect symbiosis between frequency and phase.
Ultraflexible application.
The MTrX 18 sub gets back to basics in physics. It is not necessary to build up complicated cardioid or end fire systems. Due to its extreme coupling, it offers the possibility to point even low frequencies to the front, because of its maximum horn port.
Already four arrayed MTrX 18 subs are able to direct under 50Hz to the audience, which results in a wave, no longer bending around the bass to the backside. Also in a single or double stack
configuration, the MTrX 18 sub is unbeatable and reproduces the bass downwards to its
fundamental tones with unbelievable quality.
A bass does not have to move air only, it is allowed to sound good either! Due to the targeted
development of a special speaker for the MTrX 18 Sub and a butterworth-aligned housing, we reach this quality and efficiency, despite the energy demand of just 1000W at 8 Ohms.
With this bass you´ll get a maximum flexibility combined with excellent engineering. Because the
impact of physics will not be fought with the DSP only, we set our lever at the cause in our
engineering process. This results in easy handling and a perfect music reproduction.
Type:
Bass Matrix-Horn-Design
Equipping:
LF: 1 x 18" /100mm Voice coil
Max. Power AES:
1000W
Frequency Res -6dB:
31Hz - 130Hz
SPL 1W/1m:
104dB
SPL max:
134dB
Displacement:
+/- 10mm
Impedance:
8 Ohm
Connection:
2 x SpeaKon NL4MP 4-pole wiring
Dimension (w x h x d):
700x 536 x 670 mm / 35kg
Cabinet:
18/36 mm birch plywood with handles
Polyurea coating black
Stacking bars + pole Mouth M20
Metal grill with acoustic foam
Options:
RAL colours upon request
Active module "Backpack"